Barbie
---
Bio:
Hi!
My name is Barbie and I have a issue with buying clothes and only wearing them once or twice! Lol = )
That is why I am learning to love this site…
If you're interested in any of my items, go ahead and message me!
Oh, and just in case I don't trade, I also accept cash offers through Paypal so feel free to make me an offer!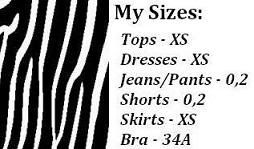 What I'm looking for:
Trendy Hats
Cardigans (UO style)
Nice jackets
Red Aviator glasses
Faux Fur items
Ruffle Tops
And anything else that catches my eye = )
Thanks!
---
---
Sign Post: (close)(view)
---
Questions: (view)(close)